Teeth Whitening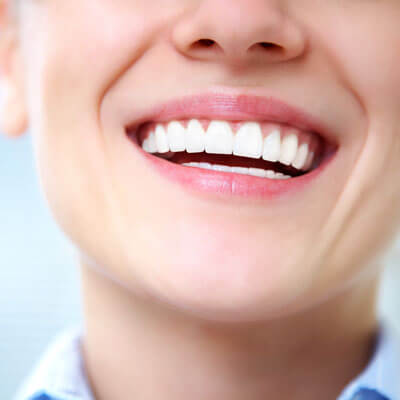 Lightening the colour of your smile can help your teeth seem healthier and more youthful than they have in years. Since our tooth enamel is naturally porous, it's expected to accumulate stains from the everyday foods and drinks we enjoy. But even if you're not a heavy coffee or tea drinker, you might have naturally dark teeth that you wish looked whiter than they are.
Our professional teeth whitening treatments are a safe and effective way to enhance the vibrance of your smile. We recommend whitening as a stand-alone service or to jump-start your other cosmetic dentistry treatments.
How It Works
There are two types of professional teeth whitening treatments to choose from, in-chair and take-home. In-chair whitening is completed in one appointment and you go home with brighter teeth the same day. It's excellent for people who have busy schedules or last-minute events.
Take-home whitening uses custom bleaching trays to hold the whitening gel against your teeth. Only a small amount of gel is needed since the trays are snuggly fitted. The special ingredients oxidise the stain particles to gradually remove discolouration with each application. Full results are seen in about 10-14 days.
Tips for Whiter Teeth
If you're recently or are currently whitening your teeth, try to avoid any foods or drinks that might stain a white shirt. Dark liquids or foods could cause faster re-staining during this unique period where your teeth are being treated. After meals, rinse with water to help lift any stain particles before they settle into your teeth. Drinking through a straw can also be helpful.
Is Teeth Whitening Right for Me?
Whitening products are best for adults with healthy teeth and gums. If you have any fillings or crowns in your smile zone, those restorations may need to be updated. Contact us today to reserve a consultation.
CONTACT US

Teeth Whitening in Kelston, Glen Eden, Auckland | (09) 818 5092