Mouthguards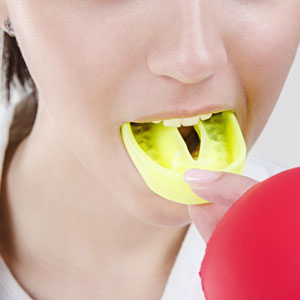 Broken, worn enamel can lead to a host of unwanted side effects. From TMJ pain to difficulty eating, eroded or fractured teeth are more than just an aesthetic concern. Fortunately, they can also be prevented by wearing a protective mouthguard.
Sports Mouthguards
Some of the most common injuries during athletic activities are blows to the face, resulting in broken or knocked-out teeth. A custom-fitted mouthguard can dramatically reduce your chances of fractured teeth as well as concussions (because of the way it helps safeguard the jaw). They can also decrease your likelihood of soft tissue injuries to your lips, cheek and tongue.
Nightguards and Bite Splints
Bruxism is the habit of clenching and grinding your teeth. It often occurs when you're sleeping, stressed or focusing on something. It can also cause irregular and premature wear to your tooth enamel, as well as headaches and ear pain. If your teeth are beginning to exhibit signs of wear or broken dental work, investing in a bite splint or nightguard can reduce the chances of additional damage. You could extend the overall lifespan of your smile!
Improving the Health of Your Smile
Investing in a protective mouthguard is a conservative way to save your smile and reduce the chance of dental emergencies. If you or your child is an athlete or you're prone to teeth grinding, a custom mouthguard offers the highest level of protection. We also recommend a nightguard if you've recently undergone a smile makeover or had dental veneers placed.
Compared to over-the-counter splints and mouthguards, custom appliances are more comfortable and secure. You'll be more apt to wear them regularly because of how precisely they fit.
Request an Appointment
All you need to get a mouthguard made is an impression of your teeth. Contact us today to reserve an appointment.
CONTACT US

Mouthguards in Kelston, Glen Eden, Auckland | (09) 818 5092