Crowns and Bridges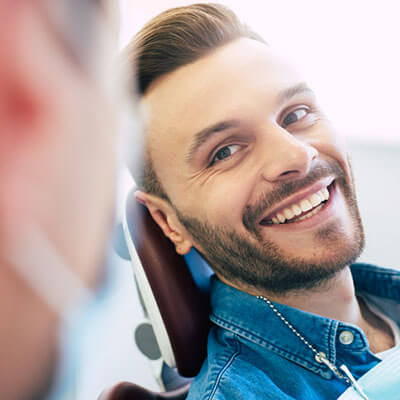 When your smile is worn, broken or you have missing teeth, we can help you make it whole again. Our custom restorations are designed from durable-yet attractive-materials that mimic natural tooth enamel. When you smile, no one should ever know the difference.
Full Coverage Crowns
Crowns cover and protect all of a tooth's visible structure. They're almost like small helmets or thimbles that slip over the tooth. Each crown is made to be strong enough to withstand normal biting and chewing pressure, preventing the underlying tooth from deteriorating any further.
We recommend crowns for teeth with large cavities, fractures or after root canal therapy.
Dental Bridges for Missing Teeth
A fixed dental bridge is one of the most traditional treatments for missing teeth. These multi-tooth restorations are set on top of a pair of healthy teeth, suspending an artificial tooth between them (like a 'bridge'). Most bridges will only replace one or two teeth at a time. If you have a wider space, you may want to consider a partial.
What to Expect
Both crowns and bridges require two appointments about two weeks apart. The first visit is a preparation appointment where we gently reshape the supporting teeth and take a series of impressions. Your moulds are sent to a lab, where the final restoration is designed. In about two weeks you'll return for us to remove the temporary and then bond the permanent crown or bridge into place.
Prosthodontic Specialist On-site
Our practice is proud to have a prosthodontic dental expert as part of our team of providers. Prosthodontists are specialists when it comes to smile reconstruction and rehabilitation, should you need a higher tier of restorative care.
Reserve an Appointment Today
A strong, functional smile is key to a healthy lifestyle! If you have broken or missing teeth, contact us today.
CONTACT US

Crowns and Bridges in Kelston, Glen Eden, Auckland | (09) 818 5092